Silicon Valley Recovery – at least for the Top 150 Public Companies!
Silicon Valley's top 150 public companies saw their most profitable year in history as they put the big recession behind them in 2010, according to the San Jose Mercury News' annual SV150 report published Sunday 4/17/2011.
The Merc's list showed that the combined stock value of those 150 companies climbed to its highest level since the height of the internet boom in 2000. As noted, a kind of perfect storm has enabled a broad recovery among tech companies: the rise of new handheld gadgets such as the iPad, iPhone and Android devices; social networking's growth; increased use of video online; more e-commerce; and corporations going back into technology-purchasing mode.
Sales of the top 150 rose 20.3 percent in 2010 from 2009, while profits rose 78.6 percent. The companies are measured by revenue, and they include most of the tech industry giants such as Hewlett-Packard, which is still No. 1, Apple (No. 2), Intel (No. 3), Cisco Systems (No. 4), and Oracle (No. 5). During the year, Intel passed up Cisco and Applied Materials moved from No. 13 to No. 7. Synnex passed eBay to hit No.8, but otherwise there wasn't much change in the top 10.
Companies responded to the growth by spending a lot on research and development, new plants and equipment, and stock buybacks. They also acquired a lot of smaller companies, but they haven't yet hired a huge number of employees. That's why Santa Clara County's unemployment rate is still stubbornly stuck at 10.3 percent, compared to 2 percent in 1999. After shedding 62,000 jobs in 2009, the companies added a net 1,200 jobs in 2010, bringing combined worldwide employment to 1.1 million.
While the ranks of the SV150 hasn't undergone huge changes, the tech industry has, John Walsh, a managing partner at Accenture, told the Merc. Social media, mobile gadgets and cloud computing are all remaking a lot of internet-based businesses.
Apple posted $16.6 billion in net income in 2010. Overall, the SV150 companies had a net profit margin of 15.6 percent, the highest margin since the SV150 list began in 1985. The combined stock market value of the SV150 hit $1.55 trillion on March 31, up 11.4 percent from a year earlier. In 2010, SV150 companies bought 170 companies in 2010. Seven of those deals were $1 billion or more, compared to 6 in 2009. Cash holdings for the SV150 rose 31 percent from $89.9 billion in 2010 to $116.7 billion.
All of that wealth still has to trickle down to the little folks. Many nonprofits in Silicon Valley are reporting very tough times still and, as the high unemployment rate attests, the recovery is only helping part of Silicon Valley's residents, not all of them.
Good news for Venture Capital activity Q1 2011
The investment analysts at CB Insights have released their quarterly report on venture capital activity, and in terms of deal-flow and funding levels, the news is good. The first quarter of 2011 saw these return to their pre-recession levels with financing for Internet companies up 83% from the last quarter of 2010.
According to the deals tracked by CB Insights, 738 deals were funded in the first quarter, with a total of some $7.5 billion in VC investment. That increase will be used, of course, as "proof" that there's a bubble. It's a one billion dollar jump from the previous quarter, even though the number of deals has sad the same. That's just one interpretation of the statistics, of course.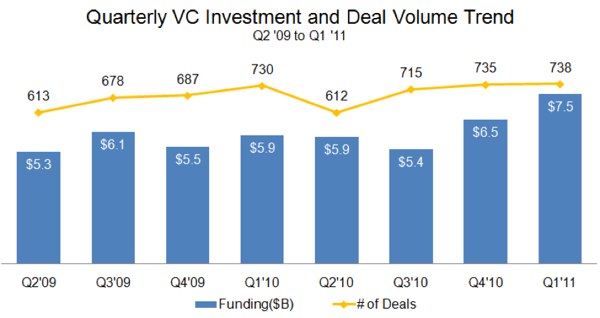 It's worth pointing out here that part of the surge can probably be attributed to the massive $950 million funding received by Groupon. While about half of that was included in the fourth quarter of 2010, the rest was counted in this first quarter of 2011.
You can view the entire CB Insights report here, but here are a few highlights:
Seed is Strong
Early stage deals and funding were about the same this past quarter as they were in the last quarter of 2010, with seed VC funding accounting for about 10% of overall deal flow. This figure has stayed consistent for the last four quarters. But when you look at activity, it's worth pointing out that early stage deals account for almost half of all deals done.